Last spring I came across this lovely blog:
Southern Exposure
. She is a part-time designer and also a stay at home mom. Her home is just beautiful and she has so many fabulous ideas!
As I was browsing through her blog, I came across her
office/guest room
. I was immediately drawn to the black, gray & yellow artwork pieces above the desk.
I ended up emailing her to see where she had bought those pictures. Come to find out...she is somewhat an artist as well! Those pictures were made from colored paper that was hole punched! YES HOLE PUNCHED!
I decided that I was going to try and DIY similar artwork. My guest bath was in high need of a punch of color!
So I punched and punched...... glued and glued till I came up with :
And This....

This DIY project seriously took me most of the weekend!!
But...I do love how they came out and just love them in the guest bath!
What do you think? Would you have the patience to punch all those holes?
I have to say I don't want to hole punch anything for a long while!!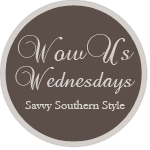 Thrifty Decor Chicks Before & After Party